A new investigation shows that farms located in the Uru-Eu-Wau-Wau Indigenous Territory in the Brazilian Amazon supplied two JBS meatpacking plants that sell beef to brands of the French supermarket giant.
"We were walking along the road and all of a sudden, some people started coming out of the bush and appearing in cars and motorcycles. They surrounded us and said we were on private property. I told them it was Indigenous land, and they knew it." That is how Indigenous peoples' rights advocate Ivaneide Bandeira described the moments of tension she faced together with some Uru-Eu-Wau-Wau on Mother's Day, Sunday, May 14.
"This is not going to be as easy as you think, make no mistake about it," said one of the men who surrounded Neidinha, as the environmentalist and founder of the Kanindé Ethno-Environmental Association is known. She filmed the encounter.
The confrontation took place in an area of Rondônia's Uru-Eu-Wau-Wau Indigenous Land known as Burareiro — a Brazilian Amazon region where encroachers have cattle ranches that supply large meatpacking companies and supermarket chains.
In March 2021, a lawsuit was filed in France against French group Casino Guichard-Perrachon, which controls supermarket chains Pão de Açúcar, Assaí and Extra Hiper, for selling meat from suppliers directly linked to illegal deforestation in the Amazon, including farms located in the Burareiro area.
The case falls under the 2017 so-called Vigilance Law, according to which large corporations based in Brazil must ensure that "both their subsidiaries and their subcontracted companies" do not cause "severe violations of human rights and fundamental liberties or harms to people's health and safety, and the environment."
While Casino claimed in the French court that it has a strict system of control over its supply chain, its stores in Brazil keep selling meat from cattle raised in protected areas.
That is described in a new investigation by the InfoAmazonia Geojournalism Laboratory conducted in partnership with the Center for Climate Crime Analysis (CCCA). They examined more than 500,000 records of cattle transportation in the area of influence of two JBS meatpacking plants that supply meat to Casino, covering 2018-22.
Data from documents known as Animal Transit Registrations (GTAs) indicate that JBS' slaughter plants in Pimenta Bueno (registered at the Federal Inspection Service/SIF under number 2880) and Vilhena (SIF 4333), both in Rondônia state, received animals from the Indigenous land and other protected areas after March 2021, when Indigenous peoples from Brazil and Colombia, with support from international NGOs, filed a lawsuit against Casino in France.
Using data from suppliers who delivered cattle directly to these two meatpackers, InfoAmazonia and CCCA examined the supply chain backward and, based on the information from GTAs, found producers operating within the Indigenous land.
In most cattle transactions analyzed, animals were not transferred directly from farms located in the Indigenous land to JBS. However, after they transited through different farms and arrived at meatpacking plants, it was no longer possible to tell the difference between those that came from the Indigenous land and others. This maneuver is known as cattle laundering and aims to hide any potentially illegal origin of the animals.
One of the suppliers who would have resorted to that practice is Orlando Alves Trindade, whose Coimbra farm covers more than 1,000 hectares (2,470 acres) of land overlapping the Uru-Eu-Wau-Wau Indigenous Land (UEWW IL).
Trindade transferred cattle from the Coimbra farm to another of its properties outside the Indigenous Land — the Aryane farm — which supplied the JBS meatpacking plant in Vilhena.
According to information obtained by the investigation on May 15, 2021, two months after the lawsuit was filed against Casino in France, JBS' Vilhena unit received 54 animals from the Aryane farm. The traceability section on the company's website, where the origin of products can be consulted, says that animals coming from that farm were slaughtered June 4.
But what the data provided by JBS do not show is that, two months earlier, the Aryane farm had received 90 head of cattle from the Coimbra farm, located inside the Indigenous land.
Questioned by InfoAmazonia, JBS stated that it "cannot monitor the other links of its supply chain" and therefore cannot guarantee control over the entire supply chain since its origin. (See JBS statement below.)
In 2021, a report by Brazil's National Council of Justice (CNJ) mentioned the need for conducting inspections at the Coimbra farm and proposed the installation of barriers in the area to prevent land invasions. The farm is just 7 kilometers (4.3 miles) from the Jamari Indigenous village, located within the UEWW IL. The CNJ also recommended canceling all registrations of rural properties within the Indigenous Land as a way of curbing exploitation in these areas.
There is no information about inspections being conducted on that farm. However, in 2022, Rondônia's Legislative Assembly declared Trindade an honorary citizen "for his services to the state."
From 2019-21, the Coimbra farm provided 179 head of cattle to several farms that supply JBS, according to transport registration data (GTAs). The areas within the Indigenous land were purchased by Trindade between 2001 and 2002, more than two decades after the government demarcated the territory, which was officially established in 1991.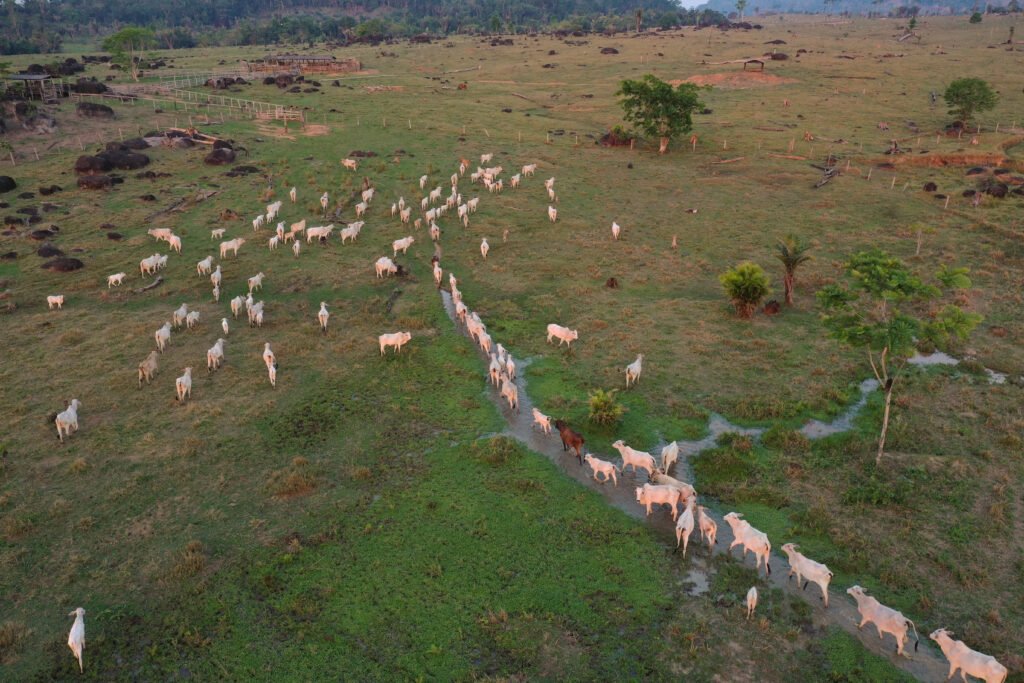 In an area adjacent to the Coimbra farm, inside the Indigenous land, we found another indirect supplier of JBS. The Dois Irmãos farm transferred more than 100 animals to properties that traded cattle with JBS' slaughter unit in Pimenta Bueno.
Both farms have had their Rural Environmental Registrations (CAR) canceled by court decisions since 2017, but the occupants were never removed from the area — on the contrary, according to data from the GTAs analyzed, these properties continue their livestock activity within the Indigenous land, vaccinating the animals and moving them around in different properties to bypass the supply chain's monitoring systems.
Similarly to the Coimbra and Dois Irmãos farms, our investigation found that at least 15 farms overlapping the Indigenous land sold cattle to Casino's suppliers in Rondônia after March 2021. Between 2018 and 2022, 46 properties were identified within the Indigenous land, which would have managed 8,000 head of cattle.
Ranches in IT fed JBS's direct suppliers
In Casino's supermarkets in Brazil, InfoAmazonia also found meat with SIF codes corresponding to meatpackers related to UEWW IL invasion. The most recent case took place at an Assaí store in Rio de Janeiro's Tijuca district in May 2023. Meat from these suppliers was also found in Piracicaba, São Paulo. In September 2022, the organization Mighty Earth also found meat from the same sources in an Assaí store in the city of São Paulo.
State and federal health agencies have the same data analyzed by InfoAmazonia and CCCA. However, the Ministry of Agriculture and Livestock considers it sanitary and public health information strategic for trade agreements and therefore is not willing to share data from GTAs with environmental agencies.
In May, the Ministry of the Environment (MMA) said it plans to integrate information from GTAs with other public databases to increase control over deforestation in the Amazon.